MDLIVE careers.
the future of health care is here. join us.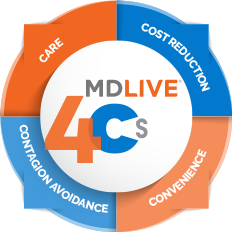 MDLIVE, an Evernorth company and part of the Cigna Corporation, is helping to shape the future of healthcare. Our commitment to the 4Cs of health management (care, convenience, contagion-free, and cost-effective treatment), along with our adoption of the latest technology has created tremendous opportunities for talented professionals with various backgrounds and expertise. Join us, and discover what difference you can make.
WHY YOU
BELONG AT MDLIVE.

It's an exciting time to join the telehealth journey. We've challenged the status quo and have a relentless passion for making our patients' lives better. And we believe in the power of a talented team that can accomplish anything — even revolutionizing healthcare delivery. We are virtually better in every way.






Driving diversity and inclusion.
Our human code is simple. Think Big. At MDLIVE, we see diversity and inclusion as a source of strength in disrupting healthcare. We believe we can revolutionize our industry if our workforce is as diverse as our patients. We are looking for people who bring diversity of thought, experience, background, gender, religion, ethnicity, sexual orientation, age, marital status, country of origin, and disability.
Most importantly, you will be part of an entrepreneurial, agile, and fast-paced team that also knows how to have fun!
We offer incredible growth opportunities, and of course, excellent compensation and benefits.